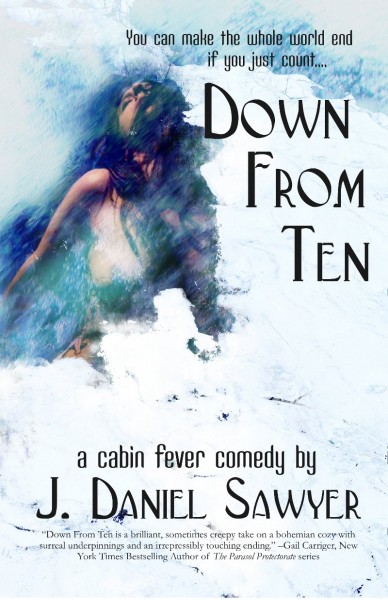 They shared a dream of a haven. A place of beauty and freedom. Eight friends gathered in a mountain chalet removed from the grief and wreckage of their lives. Now, trapped thirty feet beneath the snow, huddled together waiting for rescue, they hear the voices in the dark: You can make the whole world end, if you just count down from ten...
About the Book
In early January, a group of friends gather for an annual retreat: eight artists, scientists, and authors cloistered together in a mansion in California's high country for ten days of games, conversation, exhibition, and hedonism while isolated from the outside world.
The biggest Sierra snowstorm in over twenty years, however, is not part of their plans.
When the house is buried in an avalanche, leaving our heroes with no way to hike out, they must somehow survive and stay sane while waiting for rescue—which becomes difficult when they all start having the same dream.
"Down From Ten is a brilliant, sometimes creepy take on a bohemian cozy with surreal underpinnings and an irrepressibly touching ending." –Gail Carriger, New York Times Bestselling Author of The Parasol Protectorate series
Disclosure of Material Connection: Some of the links in the page above are "affiliate links." This means if you click on the link and purchase the item, I will receive an affiliate commission. I am disclosing this in accordance with the Federal Trade Commission's
16 CFR, Part 255
: "Guides Concerning the Use of Endorsements and Testimonials in Advertising."